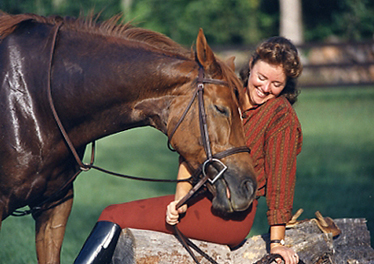 I have been horse crazy ever since the first time I sat on a pony at the age of 4. Lacking a horse of my own, I would draw them constantly. After graduating with a BFA in sculpture from Florida State University, I decided to jump into the horse world, and move to Ocala, Florida. Being second only to Kentucky in the thoroughbred horse business, I thought that it was the best place to start a career that some how included horses. My first job with my college degree was grooming horses and mucking stalls in a race horse training barn. My mother was so proud!! But knowing that I wanted to combine my passion for horses and my love of art, I needed to learn all I could about my subject matter. After several years on the horse farms, I spent 2 years as the art director for The Florida Horse Magazine, long enough to know that I did not want a career in advertising. I also spent this time learning the art of horse photography and showing hunter jumpers, both invaluable to my future career. Around this time I experimented with a small set of pastels and a favorite photo that I had taken. I have never looked back. Primarily commissioned work in pastel, oil, and gouache, and my subjects include horses, dogs, a few cats and people too. I travel all over the country taking photos for my portraits. Then collaborating with my clients to select the best photos for me to work from. One of the best parts of this job is the many clients that have become good friends over the years. I am lucky that my passion has become my profession!
My studio is located in a glassed in porch off of my home that over looks my small farm in the NW corner of Marion county, Florida. This is home for 2 horses, one mule, 2 dogs, 2 cats, 2 parrots, a small flock of chickens, a pond of koi, and a very patient husband. Just perfect!
If you have any questions about my work, please leave a message in my guest book or on the contact page. And you are welcome to contact me at....
debi@djfitzgerald.com